Details have been published on the Pilot phase of the Sustainable Farming Initiative (SFI).  This gives a first indication of what this component of Environmental Land Management will look like in terms of payment rates and requirements.  However, this is just a stage in the development of the scheme and the final details may well alter.
Defra is looking for 'several hundred' farmers to take part in this Pilot phase.  The window to submit an Expression of Interest opened on 15th March and closes on 11th April.  Defra will select farms so that they get a representative sample across English agriculture.  Those selected will be notified by 24th May and will be asked to make a formal application from that date, with agreements set to begin in October.  Pilots are expected to run until 2024.  Details of how to register an Expression of Interest can be found via – https://www.gov.uk/government/publications/sustainable-farming-incentive-expression-of-interest.  The EOI is submitted through the Rural Payments system.  It is a very simple process.  Those who want to be considered just have to select the farm type that covers the majority of their land and declare they are eligible (see below) to be considered.
Those looking to apply must be currently claiming the BPS and have management control of the land until 2024.  The land to be entered into the Pilot must not be in an existing agri-environmental scheme (i.e. Countryside Stewardship – CS).  The idea seems to be to test the scheme with farmers who are not used to being in a scheme.  It also means there is no overlap with existing CS provisions.  It is intended that, when the SFI is launched in 2022 (see below) it will be available on land in existing CS agreements but, presumably, won't pay twice for the same actions.   
For the Pilot there will be eight 'Standards', each with three 'Levels' – Introductory, Intermediate and Advanced.  The payments rise for the higher levels, but a greater level of intervention is expected.  The tables below summarise payments and the actions required.  At present, payment levels are based on existing CS calculations.  These may change before the SFI 2022 is launched.  Payments will be monthly in arrears.  It is not known whether this will be carried into the 'proper' SFI. 
It is possible to have more than one Standard operating on the same parcel of land (e.g. the Grassland Standard and the Grassland Soils Standard).  Different Levels can be chosen for different Standards – i.e. it is possible to enter as Introductory in one, whilst going for Advanced in another.  Other Standards are likely to be introduced in future – Peat soils, Unenclosed uplands (i.e. Moorland), Common land and Animal Health & Welfare.
From looking at the actions in the table it will be seen that there is still a degree of uncertainty on what is required.  Many of the prescriptions are currently vague e.g. 'provide resources for birds and insects', without giving details of what exactly needs to be provided and in what quantities.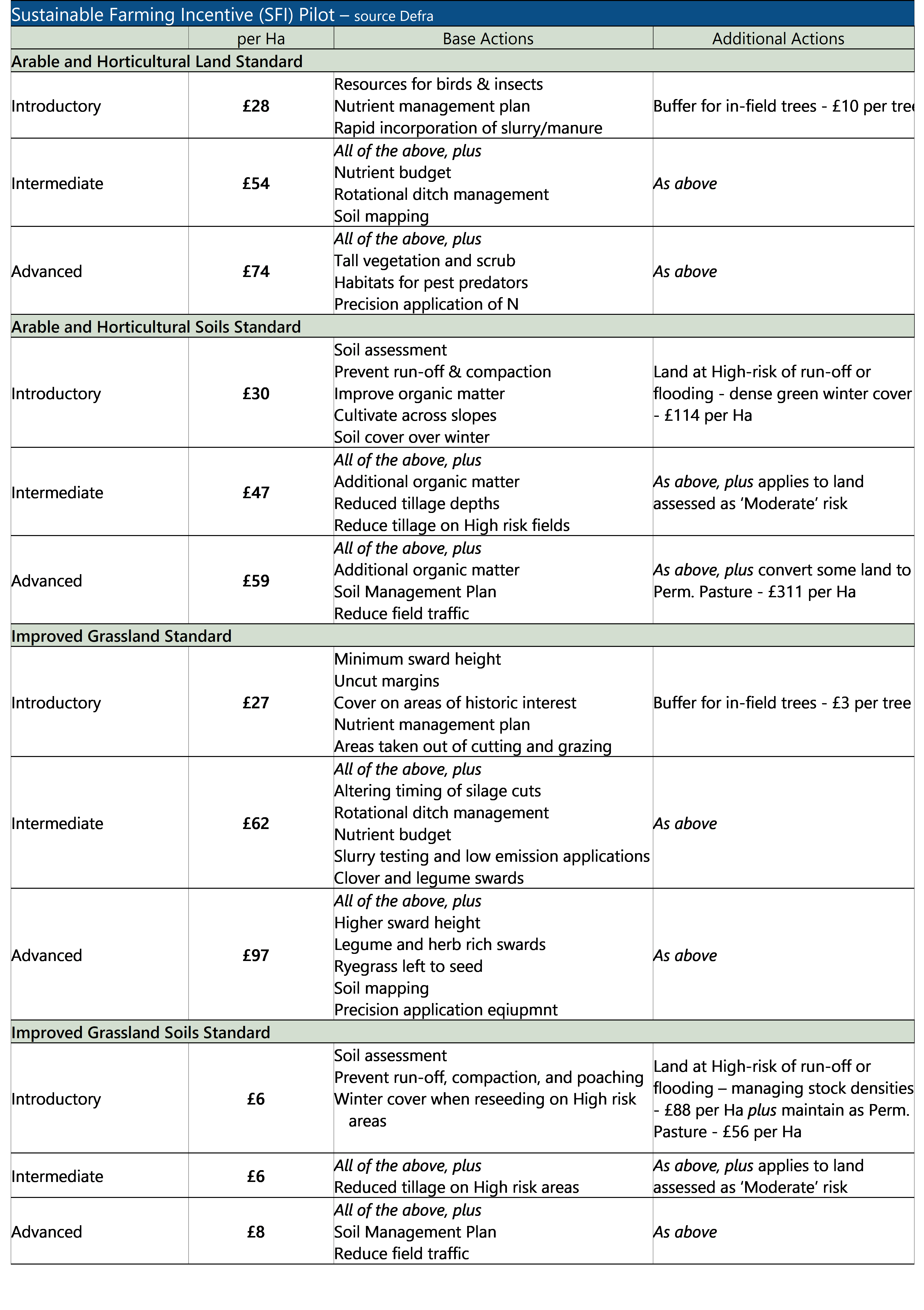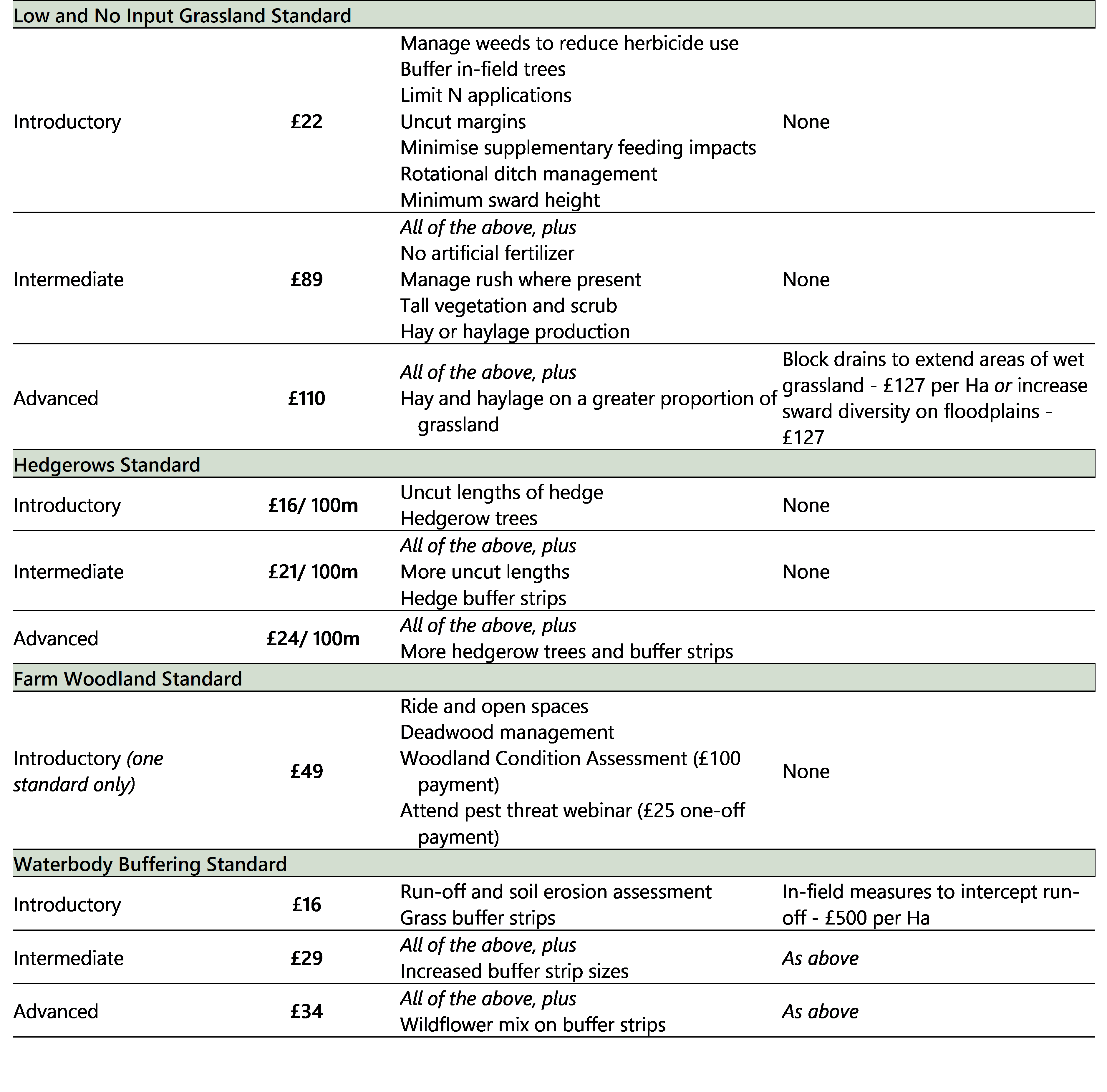 Those entering the Pilot will be expected to provide Defra with information about how the scheme works.  It is estimated that this might take 10-15 hours per month.  There will be an expectation that a Land Management Plan will be drawn up over the lifetime of the agreement and that participants will take part in workshops, interviews surveys etc.  There will be additional payments (not yet disclosed) on top of the Standards payments to compensate for this.  There are also likely to be Capital payments under the scheme.  Although not stated, it seems likely that these will be similar to those seen under the present CS Capital Grants Scheme.  
What is learnt from the Pilots will help design the full Sustainable Farming Incentive scheme.  More information on the SFI 2022 is promised for summer 2021.  It should open for applications in 'mid 2022'.
For more details see – https://www.gov.uk/government/publications/sustainable-farming-incentive-scheme-pilot-launch-overview/sustainable-farming-incentive-defras-plans-for-piloting-and-launching-the-scheme
Why Get Involved in the Pilot?
Taking part in the Pilot will mean getting involved in Environmental Land Management (ELM) at the earliest opportunity.   Although more detail is needed on the prescriptions, at first glance, they do not look too onerous and many businesses will already be undertaking some of these actions as a part of 'good practice' or will be able to with small changes to their farming practices.  With payments being made monthly in arrears, some income will be recouped almost immediately.  For a Countryside Stewardship application made this summer, no payment will be received until December 2022 at the very earliest.  Those taking part in the pilot, will also be able to give feedback and have some input in improving the scheme for the future.  Those making an EOI should know if they are successful or not in time to put in a Countryside Stewardship Mid-Tier if not selected.
How can Andersons Help?
Our consultants have up to date information on all the current farming support schemes and the new ones which are being introduced during the Agricultural Transition.  If you would like to discuss the SFI Pilot or any of the other schemes which are being introduced as we transition away from BPS payments to ELM, please contact one of our consultants.  All contact details can be found in the 'Our People' section on The Andersons Centre Website or call the office on 01664 503200 or email [email protected].
If you are interested in getting a concise and unbiased commentary on the key issues affecting business performance in the UK agri-food industry, click on the link below for a 90-day free trial of Andersons' AgriBrief Bulletin: