The Andersons Centre understands the importance of sustainable practices in farming – both in an environmental and an economic context. That is why we offer carbon footprint services to help you understand the impact of your farm's activities on the environment whilst also identifying actions that help to improve both your environmental and productive performance.
Our services are tailored specifically to the needs of the UK farming industry and your farm business, taking into account the unique challenges and opportunities that farm enterprises across Britain encounter. By assessing your farm's carbon footprint, we can help you identify areas where you can reduce emissions and improve sustainability both from an environmental and an economic (productivity) standpoint.
Our process is simple, straightforward, and uses the following steps:
Farm visit: we visit your farm to gather data on your farm's activities and to better understand your farm business. During this time, we collect information land use and cropping activities, livestock farming practices (including the number of livestock held on a monthly basis, associated feeding and husbandry practices), as well as energy and water usage. This visit typically takes around two hours and requires some preparation in advance (which our assessors will give you guidance on).
Carbon footprint assessment: when we have collected all of the data required, we will then use the most appropriate carbon footprinting tool for your farm enterprises to enter your farm's data and conduct the carbon footprint assessment. We have conducted numerous assessments using Agrecalc and can also conduct assessments using the Farm Carbon Toolkit. The carbon footprint assessment takes into account emissions from both direct and indirect sources. It is also possible to undertake a soil carbon sequestration assessment during this process.
Assessment reports: when the assessment has been completed, we will provide you with a summary assessment report, via email, outlining your farm's emissions and, where appropriate, how they compare with the industry averages for your enterprise systems. This summary report will also outline some key actions ('quick-wins') that your farm can immediately take to improve both its emissions and productive performance. We will also provide you with a detailed report setting out your farm's emissions by enterprise and how it compares with its peers in terms of emissions by source (fuel, fertiliser etc.) and by greenhouse gas (carbon-dioxide, nitrous-oxide and methane).
Feedback session: when you have had some time to digest the reports' findings, we will schedule a feedback call with you to discuss your farm's emissions, explain what the results of the carbon footprint assessment means and go through the suggested actions that we believe will help you to improve your performance.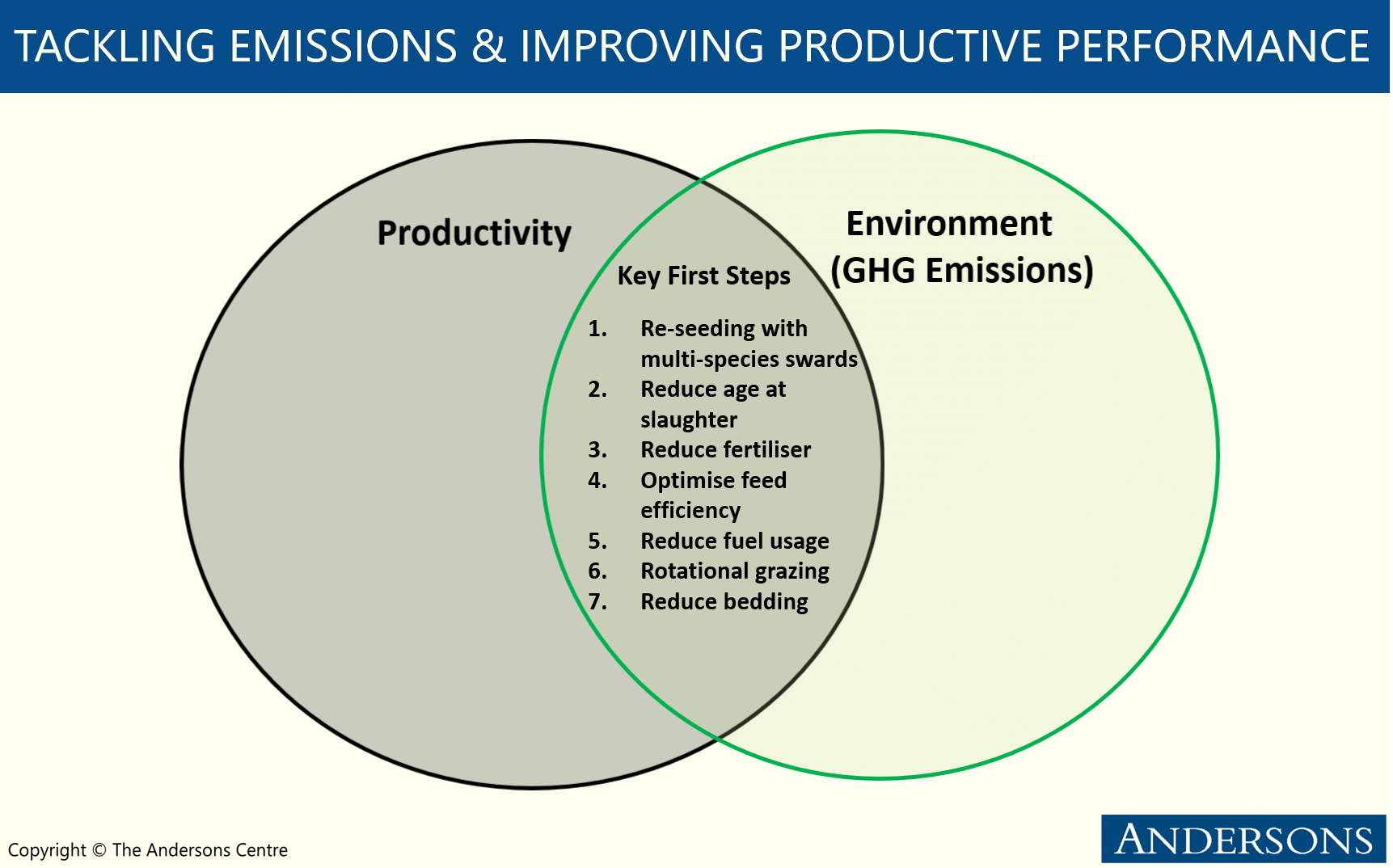 In conjunction with the carbon footprint assessment, you can also avail of a more in-depth farm business review from one of our knowledgeable consultants. This review will help you to identify additional ways to improve your business performance whilst also considering the impact on your farm's emissions. The suggested actions arising from this process will be more long-term, strategically focused and tailored to the specific needs of your farm business.
Our team of experts has years' of experience in both farm business consultancy and in conducting carbon footprint assessments. We are committed to helping farmers like you to reduce their environmental impact whilst optimising profitability and productivity.
If you are interested in finding out more, please contact us. We would be happy to answer any questions you may have and to speak to you about how we can add value to your business by conducting a carbon footprint assessment as well as a more in-depth farm business review.
Basic Payment Scheme (BPS) Applications
At The Andersons Centre, our consultants have been assisting clients with their annual support scheme applications since the introduction of the Integrated Administration and Control System (IACS) in 1992. Our consultants undertake regular training events to keep them up-to-date with the latest policy and legislation changes. They understand the scheme rules and can advise clients on the best options to satisfy their greening requirements. Our consultants are proficient in using the on-line Rural Payments Service to make applications. We work closely with our clients to submit a complete Basic Payment Scheme application online, on-time and stress free. In addition, we can manage any ongoing or historic issues.
Countryside Stewardship & Glastir
Countryside Stewardship and Glastir are the flagship agri-environmental schemes in England and Wales respectively; both include woodland elements. At The Andersons Centre, our consultants understand the scheme requirements and will use their experience to work with clients and (Natural England) to build-up an application which is both beneficial to the client and the natural environment.
Grant Scheme Applications
In addition to the agri-environmental schemes, there are a number of schemes available which offer grants to increase the efficiency of the farming and forestry sectors, funds to support projects to grow the rural economy and funding through LEADER for local rural community groups to provide grants for schemes which will improve the local economy. For those considering a project, our consultants can offer clients advice as to whether there is funding available and are experienced in drawing applications for the schemes.
NVZ Manager
In 2015, 29.4% of all cross compliance failures were due to a breach in Nitrate Vulnerable Zone (NVZ) regulations, resulting in Basic Payment Scheme penalties. The NVZ regulations can be complicated. The Andersons Centre's NVZ Manager takes away the stress and helps to avoid any cross compliance breaches from NVZs by ensuring that records conform to the latest requirements. The NVZ Manager uses the industry-renowned PLANET software. An NVZ Manager client receives:
Slurry Storage Requirements
Livestock Loading Calculations
Import and Export of Organic Manure Calculations
N Max Calculations
N Plans
Risk Maps
Field Records
Derogation Applications