UK farming will soon be operating outside the European Union for the first time since we joined the, then, EEC in 1973. In preparation for its round of Spring Seminars, Andersons the Farm Business Consultants have looked into the archives to compare UK farming 46 years ago with today's sector. The table below shows some key indicators for the agricultural sector. (All financial figures are in real terms at 2017 prices.)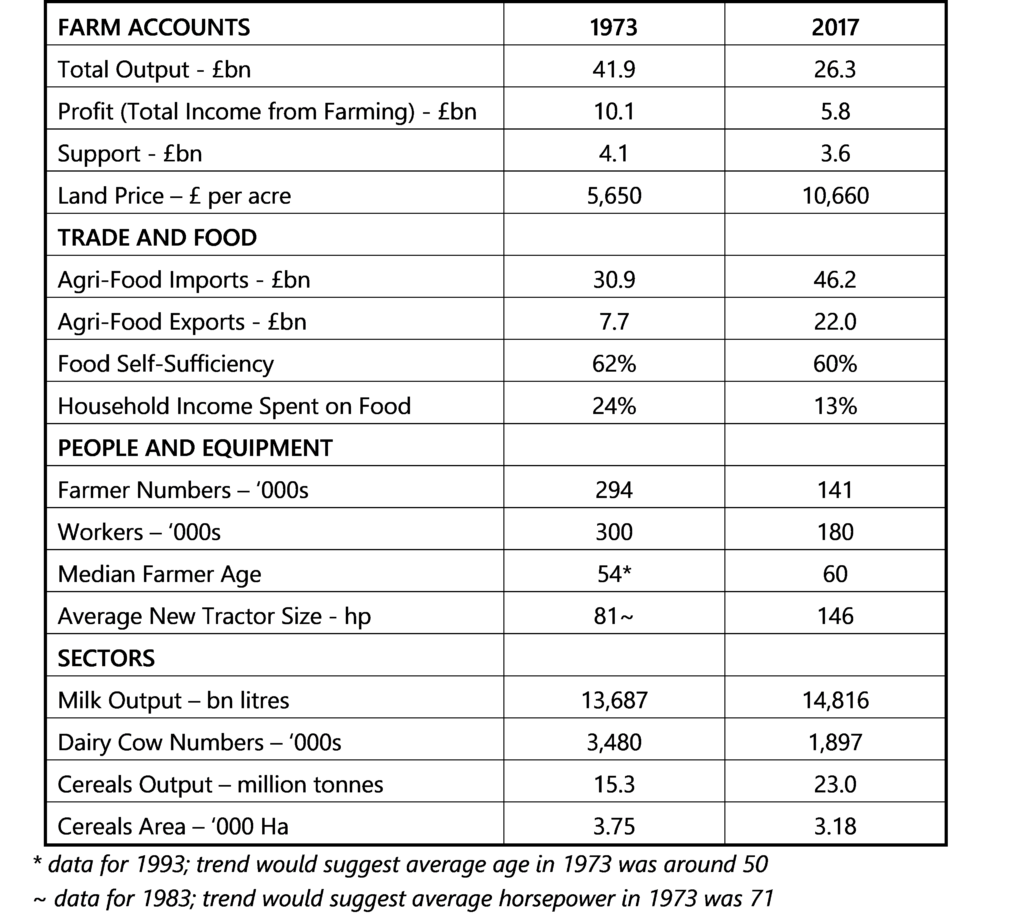 At the farm level, the industry is smaller in monetary terms and less profitable (although land values are much higher). However, the wider food chain has done an impressive job in boosting food exports and feeding households cheaply. Food self-sufficiency has not changed greatly. For those advocating a completely free-trade approach to food after Brexit, it is interesting that food self-sufficiency was close to 30% in the 1930s – the last time it was tried. The industry is also doing 'more with less', in terms of people, land and animals.
Clearly, UK farming is a very different industry to that of the early 1970's. However, there is also an argument that being part of the Common Agricultural Policy for 40 plus years has held the sector back from what it might have achieved. The next decade or two seems set to unleash even greater change.
There is some trepidation about what the future might hold for farming. One of the ways to reduce uncertainty is to gain the best understanding of the current situation and possible future direction. Andersons are running a series of Seminars at thirteen venues around Great Britain in March, looking at the prospects for UK agriculture in greater detail. This includes the opportunities post-Brexit and the issues the sector needs to tackle, whatever sort of Brexit emerges. For more information please go to www.theandersonscentre.co.uk/Seminars
Ends
No. of words: 444
Author: Richard King
Date: 13th February 2019
This news release has been sent from Andersons, the Farm Business Consultants Ltd, Old Bell House, 2 Nottingham Street, Melton Mowbray, Leicestershire LE13 1NW. For further information please contact Michelle Turnbull on +44 (0) 1362 688761 or +44 (0) 7904 436288.