Defra has published a policy statement outlining its plans for farm support in England.  This is to accompany the Agriculture Bill as it enters the Committee stage in Parliament.  A summary is given below.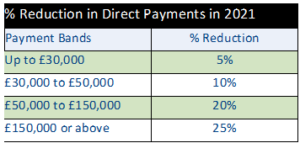 The plans for the 'Agricultural Transition' as set out in the original Statement of September 2018 remain unchanged.  Direct payments (i.e. BPS) will be phased-out starting in the 2021 year, with 2027 being the last year any will be made.  The phasing process is still unknown with only the first year's deductions being set (see table).  Again, these are unchanged from what has been announced previously.  A few new points emerge from the document;
deductions in future years will depend on the funding required for other elements of the Government's plans.
delinking of payments from land will occur during the Transition.  This will happen from 2022 at the earliest.  Once this is done, there will be no link between land occupation and payments, and entitlements will disappear – there will just be a right to support for the business or individual claiming in a reference period.  There will be no requirement for that business to carry on farming.  A consultation is promised on the mechanics of delinking
when delinking occurs, there will be no link between land and subsidy, so the cross-compliance regime will end at this point.  Defra plans to bring in an alternative regulatory regime.
the option to allow the delinked payments to be capitalised into a one-off lump sum is still being considered.
As Direct Payments are phased-out, various new schemes will be introduced.  The main replacement for the BPS in England will be Environmental Land Management (ELM).  The shape of the new scheme is becoming clearer, it contains strong echoes of the previous Environmental Stewardship (ES) scheme with an entry level, broad-and-shallow, tier and higher level options.  Underpinning the scheme is the idea that land managers will only be paid for 'public goods'.  Six key categories of public goods have been set out; clean air, clean & plentiful water, plants & wildlife, beauty heritage & engagement, hazard protection and climate change, with the latter two coming more to the fore than previous schemes.  The current plan is for ELMS to be based on a three-tier model;
Tier 1 – a broad (and shallow) offer available to all farms. Likely to have a menu of options and be managed online.
Tier 2 – this will require more intensive management from farmers. It is likely that a whole-farm plan will have to be drawn up (possibly by accredited advisors).  The focus will be on rewarding farmers for positive management such as biodiversity, flood management, carbon storage, landscape heritage etc.
Tier 3 – this aims to get groups of landowners to work together to deliver widespread change.
As well as annual payments there will also be capital grants available.  Payment rates are yet to be set.  However, unlike previous EU schemes they will not be limited to 'income foregone'.  Therefore, payments may be set at more attractive levels.  Pilots will start in 2021 continuing through to 2024, the intention is for the scheme to be rolled out in full in 2025.
Aside from ELM, the policy Statement sets out other initiatives which may be available for farmers and foresters, these include; advice, a change to farm regulation, farm diversification via the UK Shared Prosperity Fund, animal health & welfare, and productivity support.
Just from this brief summary, it is hopefully clear that Defra has big plans now that it is free to set English farm policy.  Although it will not all happen overnight, there is still a large shopping list of initiatives.  There will be a question of whether Defra (and the wider Government) has the capacity to deliver them all, and deliver them well.