It never rains, it always pours! By early June, some were concerned about the dry soil conditions, by the end, the concern was flooding. Most of the crops that had been flattened have picked up, but not all, increasing the risks of Fusarium. Combinable crops now require sunshine to help them ripen with good quality and bushel weights.
The other thing that has fallen over this month (which we had been warning would happen) is the premium that the old crop wheat carried over new crop. Sooner or later the two crop prices have to merge, and they did this decisively in June. In fact old crop long-holders will be feeling frustrated by the chart clearly showing July 2019 futures values in January of £180 now being worth £145. Also, new crop wheat prices have taken a sharp turn upwards, now clearly ahead of old crop. This will encourage any buyers to take short term cover and close the gap. Farmer sellers with adequate storage might be tempted to carry the grain over if it is in satisfactory condition.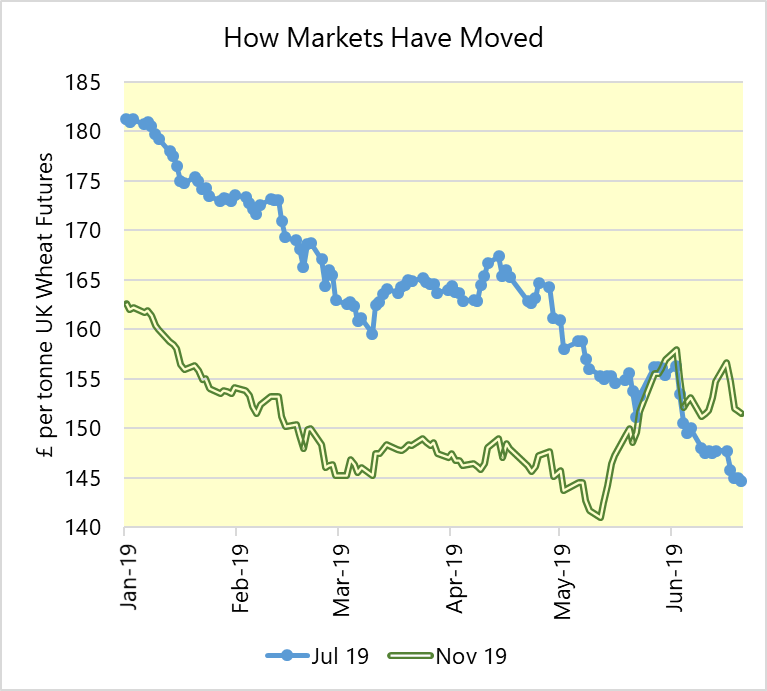 Globally, the wheat crop is overall healthy and abundant, with expectations from the International Grains Council that it will outstrip consumption to leave slightly higher stocks this coming season. This has helped explain the price falls in the market. Maize though, the main combinable crop in the world, is thought abundant but not likely to match annual demand, so stock levels are expected (by the IGC) to decline again this year. This will be the third decline since 2016/17 from 363 to 284 million tonnes; a substantial fall.
Soybean stocks are also thought likely to return a small decline in physical stock level after the 2019/20 season, although only by 1 million tonnes. This is a tiny change after such a sharp rise in stock from 25 million tonnes to the current 53 million in only six years. The question of how much oilseed rape will be grown in the UK is concerning many; whilst we have reported the poor OSR conditions on many farms this year, we have not pointed out that other arable farmers are quietly very happy with the condition of theirs. Some has been grubbed and replaced, other fields are looking excellent.
Bean crops are largely looking good throughout the country, and with new crop reaching good prices, perhaps now is the time to book some in. Currently, we would expect bean crops to outperform their overall dismal performance from last year.
This article is from Andersons' AgriBrief Bulletin, a subscriber-based publication which provides readers with expert, concise and unbiased commentary on the key issues affecting business performance in the UK agri-food industry and what it means for you and your clients. For further information, including a free trial, please visit: