The window for Countryside Stewardship (CS) applications in England opened on 11th February, for agreements which will commence on 1st January 2021.  This covers Higher Tier, Mid-Tier, Hedgerows & Boundaries Grants and the Wildlife Offers. The deadlines for each scheme are set out below.  The schemes are now being run under domestic legislation rather than EU rules, however there are no major changes, although the new UK regime should make record keeping and inspections less onerous.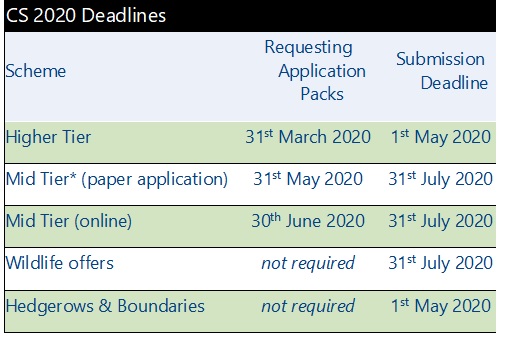 Further information and the new manuals are available on the GOV.UK website at

https://www.gov.uk/government/collections/countryside-stewardship-get-paid-for-environmental-land-management . With the BPS starting to be phased out from 2021 and the ELM not being fully rolled out until 2025 (see later article) is it worth having another look at what the CS can offer? * also includes Wildlife Offers paper application
The 2020 BPS application window in England is expected to open online on 12th March, with those who still wish to make a paper claim receiving their application forms shortly after this date.  The Land Use screen is already available for those who wish to check the information is correct ahead of their application. However, note that the mapping update work is expected to continue until around 10th  In Wales, the Single Application Form (SAF) 2020 was available from 2nd March, guidance and information is available online.  The deadline without penalties is the usual 15th May.  A reminder that RPWales must be notified of the transfer and lease of entitlements by 30th April (15th May in England), for them to be used for a 2020 claim.
The Government is consulting on what tariffs to impose once the Brexit Transition Period ends on the 31st This is key for UK farming, as it sets the level of protection the industry has from low-cost agricultural imports from the rest of the world.  For the past 40 years, UK farming has benefited from the EU Common External Tariff (CET), but after Brexit, the Government has to implement its own trade policy.  The consultation can be found at – https://assets.publishing.service.gov.uk/government/uploads/system/uploads/attachment_data/file/863880/Approach_to_MFN_Tariff_Policy.pdf.  
The Government's plan for a post-Brexit immigration scheme look set to cause problems for farming and the wider food chain.  Free movement of labour for EU citizens will end on the 31st December 2020.  From that point, potential immigrants from the EU and the rest of the world will be treated in the same way.  There will be a points system that will require immigrants to speak English, have a job offer, and that job to pay more than £25,600 p.a. This threshold can be lowered in some cases i.e. if the job is in a 'shortage occupation'.  It seems unlikely that any farming jobs will be included on this list.
George Eustice has been promoted to Secretary of State for Environment, Food and Rural Affairs.  Mr Eustice was previously a junior Minister (Minister of State) in Defra, responsible for agricultural matters.  Victoria Prentis has been appointed as the new Parliamentary Under Secretary of State for Defra and will take on Mr Eustice's agricultural role within the department.
The AHDB has released its latest version of the Nutrient Management Guide; RB209. The main changes to the revision include new recommendations for the use of Phosphate in arable crops.
At the time of writing Defra had not announced any derogation to the three crop rule.  It is worth reiterating that fallow land is classed as a 'crop' and that spring and winter varieties are also treated as separate crops based on the variety grown and not the date when sown.  In addition where a crop has been planted but subsequently fails it can be counted as the original crop (field records will need to be kept if evidence is required on inspection).  Lastly, for those who will struggle to get anything or very little drilled, there are also exemptions to the Crop Diversification rules; where more than 75% of the arable area is left fallow (or is used for temporary grass or planted with leguminous crops) the three crop rule does not apply.