How Many Potential Farmer Customers Do You Have?
It's a simple question, but it does not have an easy answer.  There is a lot of data on agricultural 'holdings', but this does not relate well to actual farm businesses – i.e. your potential customers. If you would like to know the size of your market, The Andersons Centre is producing a report (publishing November 2020) on real farm business numbers in the UK and Ireland including forecasts to 2030.
The report will combine a variety of datasets, alongside original research to provide a breakdown of figures on the following basis;  
Time:

the progression of farmer numbers over the past 20 years, plus a forecast for the next 10 are provided.

Geography:

figures are provided for the four devolved regions of the UK.  In addition, for England a split is made for the Government Office regions.  Data is also available for the Republic of Ireland.

Sector:

a split between the main sectors of UK agriculture has been made.  The main focus is on three categories – arable, dairy and grazing livestock (beef & sheep), with a more in-depth analysis conducted on these.  Some general comments are provided on other sectors such as pigs, poultry, horticulture etc.

Size:

indications of the number of farms in each size category are set out.  This allows non-commercial or 'spare time' units to be distinguished and also allows a segmentation of different business sizes.

Performance:

for each of the key farm categories, data and commentary will be provided on the financial performance of businesses including typical farm business income and balance sheets. 
As well as data tables, the written report (and accompanying Appendicies) will contain detailed commentary to provide context to the figures.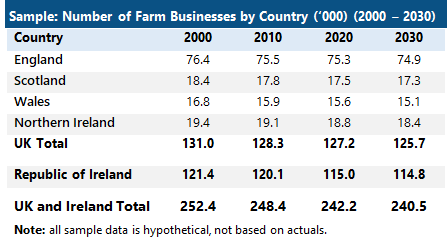 The report will be available in two formats. One focusing solely on the UK and the other looking at the UK and Ireland. Prices start from £3,500+VAT. Further information, including a brochure, is available by contacting: enquiries@theandersonscentre.co.uk.