Latest results from the RICS/RAU Land Survey reveal a mixed picture for farmland values. The data covers the second half of 2018 and shows the Transaction-Based Measure falling back considerably to below the benchmark £10,000 per acre level. The average price for H2 2018 was £9,571 per acre (£23,650), some 16% down on the first half of the year and 8% lower than the corresponding period in 2017.
The Transaction-Based measure can be quite variable as the number of sales is relatively small (and the series also includes sales with a residential element). The Opinion-Based measure is a hypothetical estimate of surveyors of a bareland price for agricultural land. This has moved in the opposite direction for the second half of last year to £7,638 per acre (£18,873 per Ha). Within this, arable land values recorded a small decline, but pastureland experienced an increase.
RICS/RAU Rural Land Values 1998-2018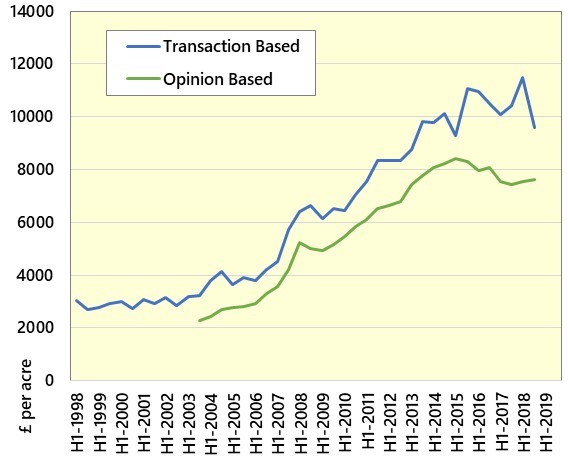 Looking ahead, contributors to the survey suggest uncertainty in the marketplace is affecting demand with a net balance of -16 expecting demand to rise. In contrast, they are expecting more land to come to market over the next year, a net balance of +6. No data is available on contributors' price expectations for the coming year.
The Survey also includes information on land rents in England and Wales. All categories recorded an increase in the second half of 2018, compared to the first six months of the year. The results are in the table below:
Farm Rents in England & Wales – RICS/RAU
Half Year
Arable (£/acre)
Pasture (£/acre)
AHA 86
ATA 95
AHA 86
ATA 95
H1 2017
75
146
53
94
H2 2017
78
141
58
93
H1 2018
76
144
57
93
H2 2018
80
149
60
104
This article is from Andersons' AgriBrief Bulletin, a subscriber-based publication which provides readers with expert, concise and unbiased commentary on the key issues affecting business performance in the UK agri-food industry and what it means for you and your clients. For further information, including a free trial, please visit: