Last month, Defra published statistics on the utilisation of precision farming techniques (i.e. soil mapping and use of satellite technology to guide fertiliser application) by farm businesses in England.
The results show that usage on cereal and general cropping farms have increased steadily with uptake by farm businesses estimated at 44% and 50% respectively. Uptake is less prevalent in dairy and mixed farms where uptake is gauged at 20% or less. Defra noted that usage was more common on very large farms. It also tends to be greater for higher economically performing farms, although after allowing for other factors such as farm type and size, the difference between performance groups is not significant.
Defra also estimated that the usage of soil nutrient software packages (soil mapping) for fertiliser applications stands at 23% across all farms, uptake is substantially higher amongst cereals farms (43%) and general cropping farms (60%).
Uptake of precision farming techniques by farm type, England, 2012/13 to 2015/16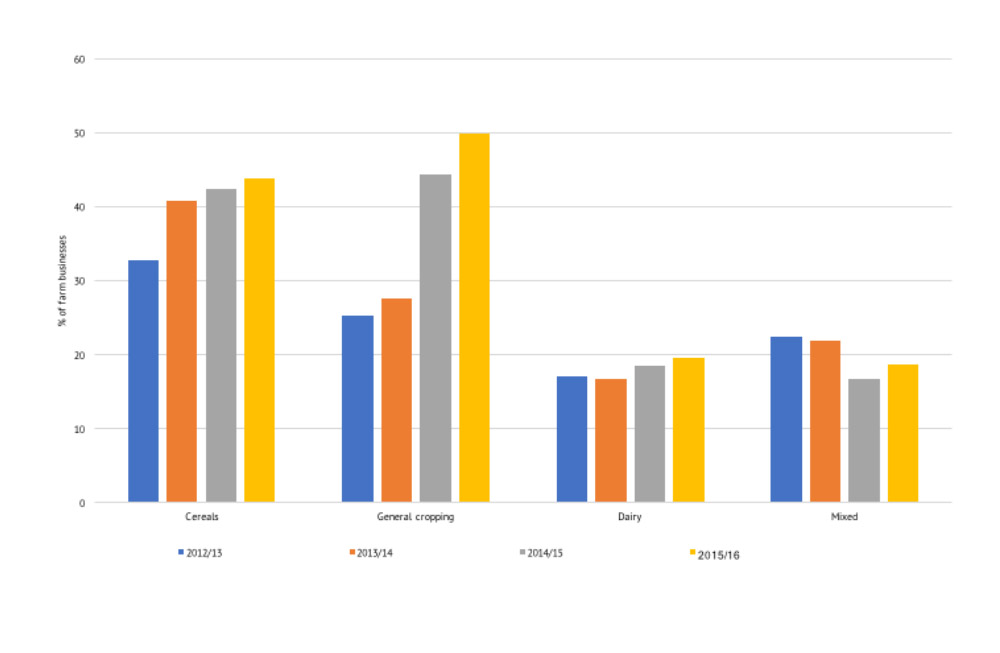 Source: Defra
The fact that precision farming techniques are becoming increasingly common is no surprise. Much of the new machinery coming on to the market (e.g. tractors, combines etc.) now comes with these technologies installed as standard. Recent research for The Andersons Centre concurs with the Defra findings and shows the uptake of auto-steering has grown strongly since 2012, although the uptake of variable rate application and telematics lags. There is little doubt that some precision farming techniques are becoming mainstream. The trickier question is whether all precision techniques are worthwhile. By its very nature, precision farming will vary from farm-to-farm and it is seen by many of the larger farms especially as an effective means to manage scale and capture key information, such as historic applications, land capability etc., thus assisting farm managers to conduct operations more effectively. It is also essential that the fundamentals of good farming practices remain paramount as it is easy to become engulfed by a torrent of data which can waste precious time and cloud decision-making.
Uptake of specific precision farming technologies in UK farming
| | | | |
| --- | --- | --- | --- |
| Technology | 2012* | 2016 | Approximate cost |
| GPS (incl auto-steering) | 22% | ~55% | up to £10K |
| Soil mapping | 20% | ~25% | £15 – £30 per ha |
| Variable rate application | 16% | ~20% | built into equipment |
| Yield mapping | 11% | ~20% | £5 – £7 per ha |
| Telematics | 2% | ~5% | circa £1k + yearly cost |
*Defra 2012 estimate – Source: Defra