Latest Defra statistics show that compound animal feed raw material usage (11.2 Mt) increased by 2.7% versus last year. Wheat (3.5 Mt) is the main raw material used and showed an increase of almost 9% on 2015 and a 23.5% increase since 2010.
Oilseed-based raw materials (2.6 Mt) were down 2.6% on the previous year. Oilseed rape cake and meal usage estimated at 0.6 Mt in 2016 was down by over 11%. This is unsurprising given the smaller oilseed crop last year.
Comparing 2016 against the previous year, compound animal feed production was up 12% for sheep and 11% for poultry, down 3% for pigs and 4% for cattle. In comparison with 2010, poultry usage has increased by almost 27% which highlights the extent to which poultry production has increased in the UK in recent years. In 2016, poultry consumed 46% of all grains made into animal feeds. Different animal species require different grain mixes in their diets, with poultry eating more wheat. Consequently, the usage figures showed a rise of 3.6% of wheat incorporation, but declines of barley, oats, maize and rape meal.
GB Compound Animal Feed Raw Material Usage 2010-16 (Mt)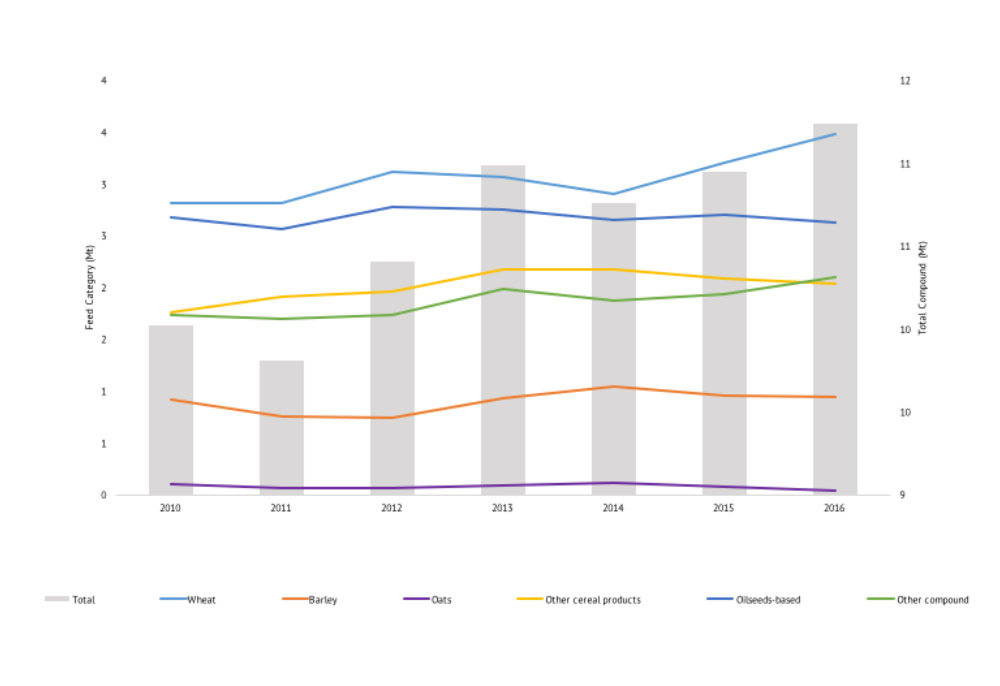 Source: RICS/RAU
Raw material usage in integrated poultry units (IPUs) in 2016 (1.3 Mt) was down 8% on the previous year. Wheat accounts for the vast majority of IPU raw material feed. However, it should be highlighted that Defra adjusted its data from August 2015 to take account of IPUs that produce both feed for their own use and feed for retail sale. This has resulted in an increase in compound poultry feed and a decrease in IPU feed.
In terms of prices, the quarterly average price of cattle and calf compounds (Oct to Dec) was £211/t with the equivalent sheep price being £213/t. Pig compounds averaged £224/t whilst poultry was the most expensive (£237/t). Prices are generally up on 2015 equivalents but are £30-60 lower than the recent highs of 2012.